What is time scheduling? How to configure with IVR
What is time scheduling? How to configure with IVR
By CallerDesk Team
updated 6 months ago
Time scheduling is deciding about the Working hours/ Business hours for the members along with the Business/ Working days. It helps in creating a workable structure for the members in the group to avoid any hassle.
Once a Call Group is created you can add a time schedule by following the steps:
Now Click on "time schedule" tab. Once you have clicked then a new window "Time Schedule Setting" as shown below will open.

Set Business Hours:
The First Setting is For Business hours. To understand more about the importance of the business hours check the blog "Office time-based scheduling in IVR- Definition and Why customization in business hours is a need for every business?"

Business hours have a preset option for the whole day. If you have certain business timing of working then untick the "Whole day" Box, the window will update and below given window will come in view.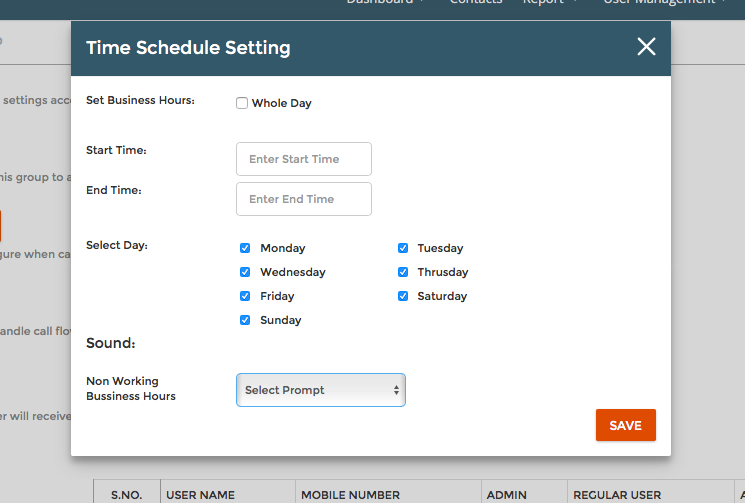 Here you can mention the Start time and End time of the business hours.

Apart from this, a Third option in the last line of the window is also added in the updated window, which is called Sound option for Non-Working Business Hours. The sound option allows you to add and voice prompt message for the non- working Business hours.
Example:
"We are closed for the day. Our Business hours start from 10 AM to 6 PM." Or, "Offices are closed now. To ask a query, leave a message after the beep.
After selecting the Voice prompt click on the Save Tab. Once you click, an acknowledgment window will appear. Just click Close. Your changes in business hours are saved.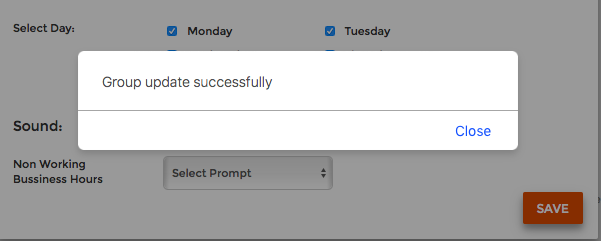 Set Business/Working Days:
The next Setting in Time Scheduling is Business/ Working days.
Click on the time scheduling tab again. In the business, days section select the working days of your business.

As soon as you select the days. The window will be updated again and the below mention options will appear: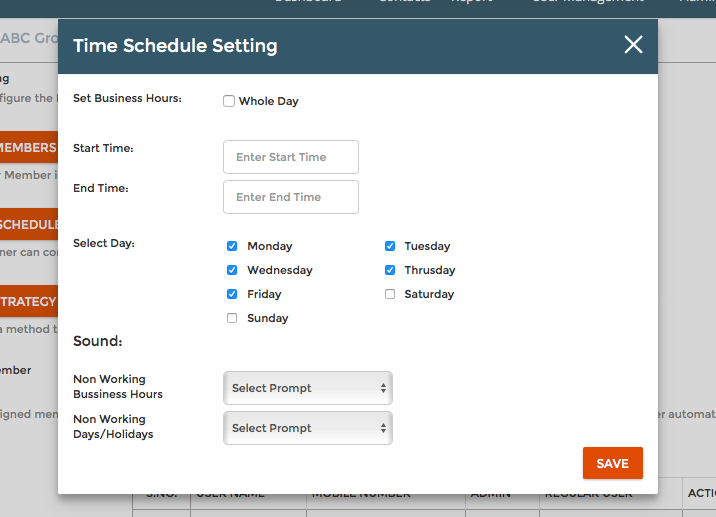 You have already selected the voice prompt for "Non-Working Business Hours" in the Business hours option. You Don't have to select it again.

Now you can add a voice prompt for "Non- working Days/ Holidays" as well. Once selected Click on the Save button. Your edits are saved.
Did this answer your question?